When the Spanish league season started three weeks ago the shirts of the backs of the Real Madrid's fans still predominantly had the names of Beckham and Ronaldo on them.
However, a new phenomenon has hit Real – Mahamadou Diarra.
The Malian midfielder has become an indispensable member of a Real team looking to recapture its glory days by becoming the champions of Europe for a record 10th time.
The Real fans have taken Diarra immediately to their hearts.
They have been impressed by his 100 per cent commitment to their cause, despite his arrival only the end of last month, his tough tackling and incessant running.
He is also a threat in the opponent's box, a fact amply demonstrated by the header that got his first goal for Real since his US$33milion move from French champions Lyon, the only goal of the game in Madrid's 1-0 win over Real Betis on Saturday.
Suddenly replica shirts with the name Diarra and his number six have become the most popular item on sale in the Real Madrid souvenir shops.
"Since I was young I've followed Real and their great players, I loved the likes of Mijatovic, Zidane and Redondo," said Diarra.
"I loved the way they played, the atmosphere in the Bernabeu. I said to myself 'why can't I play there one day'.
"Now I am here I am living a dream and I want to win titles with them: the Champions League, the Spanish league, the Spanish Cup, the lot."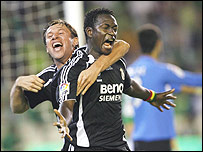 Diarra, 25, admits that he is still finding his way around the Spanish capital after the small town feeling of Lyon and his native Bamako.
"I like Madrid but I'm still feeling a bit lost. I am still double-checking timetables, asking people questions, but I don't think I've had any big problems so far.
"My colleagues are a little crazy though, they are joking with me and even insulting me in Spanish to see how much I understand.

"But I am learning quickly and very soon they are going to regret it," joked Diarra who, with the retirement of Zinedine Zidane after the World Cup, is the only French speaker in the Real squad.
"Zidane has been calling me, he's a bit like an older brother. He's very good at bolstering my confidence. He also said that the Madrid supporters appreciate good play and talent.
"He told me that the most important thing is to learn Spanish quickly and then I will adapt better to my new life," added Diarra.
Nevertheless, despite Diarra's modesty, he has taken very little time to adapt, at least on-the-field.
"Diarra is on the verge of conquering the Bernabeu. The supporters have now seen what he is capable of," claimed Spain's biggest selling newspaper Marca on Tuesday.
"He is already capable of great things, and he can only get better," added Diarra's midfielder partner Emerson.
His stunning pass that set up team mate Jose Antonio Reyes for arguably the best goal of the game in Real's 5-1 thrashing of Dynamo Kiev in the Champions League on Tuesday again earned him top marks from most Spanish football pundits.
Source:
Phil Minshull
(BBC)
Madrid, Spain
29 Sept 2006
"
Commentaires via Facebook :